Bitcoin Reacting Well Amid Stark Economic Condtions
BTC Markets
Bitcoin staying slighlty positive, posting a minor +10.69 (%0.16) gain, landing at 6854.09. Surprising considering recent strong price correlation with the Dow, which was down today again for the second day in a row, with a loss of 631.60 dollars or 2.67 percent.

This minor divergence in price could be a signal of price correction in Bitcoin. This would correlate with current hyping of the halving price correction and be the beggining of a subsequent rally.




The levels indicated in the gold-ish price on the chart are for the weekly fibonacci retacement back to the levels pre-crash on March 12th. For those who don't know BTC fell ~3000 dollars from open to close with a low ~3890, falling almost 4000 in total in two days before recoveinr sharply on the Friday, the 13th.

Since the beggining of this recent volatility BTC has had the fastest recovery of all the financial assets. Returning 85% of the 101% peak-to-trough two day drop price suffered due to a crash in the stock markets.
Negative Oil Prices
WTI Oil prices dropped into negative territory today with a low of nearly negative 50 dollars a barrell. This does not mean Oil for you and I is free it means the furtures contracts speculating on the price of oil fell to sub-zero levels.

This is likely due to the fact that these May contracts were about to expire and are settled in physical oil. With recent dramatic price decreases many institutional traders are likely underwater and a firesale broke out.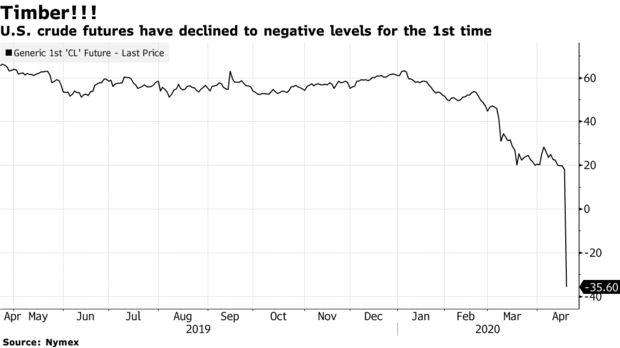 Note how the chart says "for the 1st time" as if it is lkely to happen again somewhere along the road. Which under current circumstances could be a likely scenario for many stocks and fiat currencies as well as futures.
Impact Ripples Out Far


These traders have homes and the housing market is already facing major issues due to lockdowns imposed. Morgtage default rates have reached 2006 lows, completing a cycle which will certainly return to its highs in 2010 or higher.

Banks are exposed because they own the loans and the the securites speculating on the loans.

All fuel to the fire boosting Bitcoin if this divergance holds up on the HTF.


What's This Mean For Today?
We would need to see a new lower low, invalidating the recently repsiected intraday level of ~6770. This paired wil a follw up re-test nadf failure of the level, if not just a vertival bar down, would confirm a greater overall bearosh trend prevailing.

Longs here would be foolish. If not positioned yet a good path here would be to wait for trend confirmation in either direction and bet on a retest of the level in the near future due to BTC's usual nature to do so. Patience will be key here and staying calm when these large candles arise because though we have seen a steady rise in recent price trend we are now seeing consolidation around an area of resistance over an extended period of time.